General
Getting Started with Video-Conferencing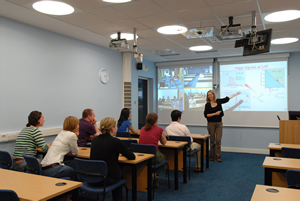 In this course you'll find a set of resources to help you to get started in using the SUPA video network to attend or deliver lectures.
Sept 2022: ClassView is the new name for the Vscene service. You may notice some new logos and branding when you join lectures.
Aug 2022: Many of SUPA lectures will be made available by ClassView video conference, but arrangements for courses may vary. Some courses may be teaching from other later lecture rooms, or make other arrangements and use Teams, Zoom or use a recording-only system.
Lecturers and Students - Joining remotely: lecturers and students may join SUPA lectures from desktop, laptop or mobile devices. See "Joining remotely from another location".
Attending a lecture from the SUPA rooms

It is possible to join from a SUPA video conference classroom. The rooms are set up to automatically answer the calls. Calls normally start at 5 past the hour.
When attending a lecture you will need to :
- turn on your projectors

or video screens

-

press a button on the desk to switch between the two cameras

.
In some rooms you will also need to press 'unmute microphone' on the Vidyo remote control. Please also use mute/unmute if there is a lot of background noise at your location. See 'One page guide' below.
Call not connected?
If your room is not connected to the conference exactly at the expected time, please follow instructions on the 'Connecting and reconnecting guide'. If you see a green calendar entry with the right name and time you may use the Vidyo remote to select it, and join the meeting. If the call does not connect on time, and you don't see the expected calendar entry, please call us immediately.
Please note an updated support helpdesk number:
In each topic you'll find a video giving you the basic steps to carry out each step. After these you'll also find a set of quick guides which you can use as a reminder when using the system and a flowchart giving some advice on what steps to take if you encounter difficulties.

Use this forum to discuss any questions or suggestions you might have about the SUPA video network. If you would like to subscribe to this forum please enrol on this course (you will be prompted to do this the first time you post a message) using the "Enrol me on this course" link on the course page.